Want to link to the OPCFG? Feel free to use one of these images:


Thanks to Len Clark for this button!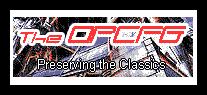 Thanks to Thoja Enwizz for this banner!


Thanks to Simon Coong for this banner!
ROB'S OTHER SITES:

My site devoted to Namco's classic horror series Splatterhouse
IMPORT STORES
OPCFG AWARD WINNING SITES:
Don't know what the OPCFG Award is? Click here to find out.
Starbase 299

Planet Gradius

Strider Island Moralos

The Ninja Gaiden Homepage

The Space Harrier Absymbel

Blazing Lazers

My Favourite Videogame

Gamester Lair

RetroDeej's Wai Wai World!

The Metal Gear Edge