IMPORT STORES

Here at the OPCFG, we're dedicated to trying to get some of America's most wanted Japanese games released here. Let's face it, though - a lot of hard-nosed, profit-obsessed companies still refuse to listen to the demands of what they perceive as a relatively small group of gamers - yes, I know these companies are in business to make money, but the very least they could do is offer the games online or something, and stick with mass marketing for the masses. With the exception of the efforts of companies like agetec and Working Designs, most of the games we want get stuck in Japan. Importing's the way to go, it seems.
Regardless of the fact that a certain company wants to make mod chips illegal - *cough*Sony*cough*, importing is still very big. For most of us diehards, that's the only way to get games like Gradius Gaiden or Tobal 2. Because of that, the OPCFG has compiled a list of really good (and sometimes not so good) import stores. If it's not going to make it out in America, then try one of these places. If you deal with any of them, let me know if your experience was good or bad, and I'll be happy to post your opinion here!



Famicom Disk System Japan - I was recently told about this site. There's not much there, but apparently the guy that runs it will answer questions as to what he can get. His email address is listed at the bottom of the page - it can't hurt to ask him is there's something in particular that you want.

07/04/03 - Here's what a reader by the name of Horntoad2001 had to say about Famicom Disk System Japan:

"Carries a decent number of new Famicom Disk games. I ordered 2 or so games from this place in the past. One did not work, so I sent an email and I was sent a replacement disk."
Play Asia.com - Here's another site I recently stumbled across. Looks like they have a good selection of more recent imports, and they seem to get a lot of new stuff. I'd recommend giving them a look.

01/01/04 - Here's what Mayhem had to say about Play Asia:

"Nothing but helpful and well stocked. If there is a problem, they will let you know and ask what you wish to do. I cannot fault them at all for being importers, and their prices are very competitive as well."
Import Games Japan - I just stumbled across this site recently, and they seem to carry a lot of decent quality stuff (no Famicom or Mega Drive games, though). It may very well be worth your time to check them out if there's a particular import you're looking for.
The Import Game Company - This is a relatively new import store, but they seem to have a lot of older titles (specifically Super Famicom games). From what I've heard, they're highly recommended, and their website is definitely worth browsing through if you're looking for older imports.

03/03/03 - Here's what a reader by the name of Daniel had to say about The Import Game Company:

"I found a new store where you can get rare games. For example I just bought Capcom Generation 1 for the PSX. If they do not have a game you can ask for it and they will find it. They were able to find Salamander Deluxe Pack Plus and DoDonpachi. They are very nice - they emailed me letting me know about a game I wanted. To anyone that visits the web site, please say that Daniel Gomez referred you."
Videogameimports - This U.K. based import store has tons of stuff, going all the way back to the Atari 2600 and MSX! They do deal with overseas buyers, and they not only have Japanese imports for sale, but also European and American games! I haven't shopped there yet, but I plan to soon. Thanks to Robert Fielding for the heads-up on this site!

01/01/04 - Here's what Mayhem had to say about Videogameimports:

"Good import site for UK people, usually good stock and reasonable prices. Again, usually helpful if problems occur."
Game Choice Club - This is another store I haven't personally shopped at yet, but just by checking out their site you can tell that they have a lot of stuff, including a lot of classic 16 bit titles. They're based out of Hong Kong, but they do deal with overseas buyers.

10/21/02 - Here's what a reader by the name of Jay had to say about GCC:

"I recently shopped at Game Choice Club, and I have to say they're great! They answered my emails almost immediately and they are very nice. Their shipping was pretty quick too. I ordered my item last Thursday and I just got it today (about 7 days). The only thing though, is that their prices may be different then what is shown on their site, but they do email first telling you the price of the item and total shipping."

01/03/04 - Here's what Ed Oscuro has to say about GCC:

"(Regarding Game Choice Club's system): they might send you what you ordered, and they might not. Their relatively recent switch to a cart based system instead of email inquiries has the unfortunate effect of making it harder for you to pose questions about the condition of items (which is an absolute must if you wish to deal with these folks, as I have discovered), as they apparently spend no time updating their page except when they discover they need to change an item's status to "restock soon" after you ordered and paid for that item.

I've always maintained that Game Choice is honest, but that depends if you consider a webpage that doesn't accurately describe what they have for sale, how much it will cost, or if they have it in stock (they'll let you order, of course), staff is unable to understand pointed inquiries until their second reply (after you've already had a heart attack, that is), is inconsistent in providing quality goods despite high prices, and will often send multiple requests after they botch half of the transaction (this has happened to me on two separate occasions) for you to take something you didn't want in place of a higher priced item (with some overpriced games thrown in to make the difference, of course), to be indicative of an honest store.

Regard Game Choice as your last resort for the more difficult to find items listed. Expect to lose at least one item you bought in a lot, and a "free game of our [their] choice" (I was offered two in my last dealing with them as I had to wait two months for the item to ship out; I didn't get either free game) to make up for it. They may get better eventually, but right now they're a poor choice when you compare them to the many other sources of games available that beat their service in every way."
Kicks-Hobby Japan - I haven't shopped there personally (yet), but according to RZM of River City High School Class Reunion, they don't keep much in the back-stock department, but they get everything that's new and good. They even deal in import toys! Sounds good to me!
Tronix Multimedia - A fabulous mail order store, with a good stock, good prices, and excellent service.

Here's what Kurt Kalata of The Castlevania Dungeon has to say about Tronix:

"They even refunded the money for my Gameshark Pro when it didn't work with Bust a Move 2!"
National Console Support - Again yet another highly recommended import shop. The stock is huge and the prices are great too!

01/01/04 - Here's what Joe Santulli of Digital Press had to say about NCS:

"I've never had a bad experience with NCS and I've done quite a bit of business with them over the years. They've got a tremendous inventory and if you're into memorabilia they've always got some of that too. I think their online store needs a better engine, because if you're not sure about the title or want to browse discounted titles, you're out of luck. I can't recommend this business enough."
Video Game Depot - A decent importer from what I've seen. Definitely worth a look.

12/13/02 - Here's what Jay Dub had to say about Video Game Depot:

"About a month ago, i purchased a NEO*GEO AES system from videogamedepot.com. Their prices are kinda high, but they have excellent customer service and pack their items extremely well. Good joint."

01/01/04 - Here's what Joe Santulli of Digital Press had to say about Video Game Depot:

"Though I don't do as much business here as I used to, VGD doesn't seem to have lost a step with regards to their good pricing and availablity. I did more business with them when my buddy Tom Keller ran the place, but it's in good hands and also highly recommended."
Video Game Liquidators - From the webpage, you wouldn't even guess this place has imports...but if you're looking for something, give them a call or an e-mail, and they'll see if they have it in stock.
Game Express - Not too bad a place, though the service is a bit slow and game prices rather high.


12/13/02 - Here's what Jay Dub had to say about Game Express:

"As a NYer, I've personally visited the store on several occasions and I must say, they're pretty damn good. A lil' pricey, but they have a huge selection, very knowledgable employees, and will even special order titles for you. It gets the Jay Dub stamp of approval."
Buy Rite - A lot of people hate this place due to getting burned, but I've had great experiences with the three times I've dealt with them. The service, while not as personable as other places, is fast, the prices are just about the cheapest anywhere, and there's plenty of stuff there. Buy at your own risk, but I've had no problems whatsoever.

12/6/02 - Here's what a reader by the name of Jim had to say about Buy Rite:

"(Buy Rite's) prices may be awesome, but they absolutely kill you on shipping to make up for it. As I recall, the shipping isnít stated until after you confirm your order. On top of that, they ended up charging me more than they quoted. Iím one of the haters because they burned me royally. My one and only experience was horrible to say the least. They charged my credit card 600 bucks for one copy of Ikaruga, and $20.45 to ship it in a Priority envelope with no bubble wrap or protection of any kind. Of course it was smashed to pieces. They wonít respond to emails, other than one sentence regarding the shipping cost. This is the abbreviated and condensed version of the story. Apparently, what happened to me was the rule and not the exception."
Japan Video Games.com - I don't know a lot about these guys, but they seem to carry quite a bit... even WonderSwan titles!
Lik-Sang - Another company I'm not too familiar with, but I've heard plenty of good things about them. Definitely worth a look.

01/01/04 - Here's what Mayhem had to say about Lik-Sang:

"Also helpful, generally now having to compete with PlayAsia and have improved their service since due to it. Also good for prices, and sometimes have stuff that PA don't get in. Postage is usually slightly cheaper through them too."

01/01/04 - Here's what Paul England of Japanese Gaming had to say about Lik-Sang:

"I actually did order a PAR from Lik Sang, and they were not only fast, but courteous. They had no problems shipping to Japan (and actually knew how to do it)."
Wolfgames - Another store I personally know very little about, but sounds decent from what I've heard.

01/03/04 - Here's what Bighab had to say about Wolfgames:

"I have dealt with Matt at Wolfgames for over 3 years. He has always been reliable. I find his prices on the high side but there are some deals to be had if you look hard enough. He also has more PC-FX stuff for sale than almost any site."
Stores without descriptions:
Otaku.com




The games below will more than likely never be released in the U.S. This list is just to keep track of some of the most wanted Japanese games around the world. For the most part, the games listed here are shooters and action titles, but there are a smattering of RPG and fighting titles thrown in as well. There's a slim possibility that some of the above import stores might carry a few of these titles. Don't be surprised if they don't because many of these titles are out of print (I wouldn't even ask about the MSX, Famicom, Mega Drive or PC Engine games, unless the site says specifically that they carry titles for those systems). If there's any you don't see listed here and you'd like me to add them, just send me an email and I'll go ahead and put them up.
* indicates that that title is also available for the PlayStation (PS1)
| | | |
| --- | --- | --- |
| TITLE | PLATFORM | COMPANY |
| Akumajou Special: Boku Dracula-kun | Famicom | Konami |
| Akumajou Dracula X: Chi no Rondo | PC Engine | Konami |
| Akumajou Dracula X: Gekka no Yasoukyoku | Saturn | Konami |
| Gradius II | Famicom | Konami |
| Gradius II: Gofer no Yabou | PC Engine | Konami |
| Gradius Deluxe Pack | Saturn* | Konami |
| Gradius Gaiden | PS1 | Konami |
| Nemesis '90 Kai | Sharp X68000 | Konami |
| Salamander Deluxe Pack Plus | Saturn* | Konami |
| Parodius Da! | Famicom | Konami |
| Gokujyo Parodius | Super Famicom | Konami |
| Gokujyo Parodius-Da! Deluxe Pack | Saturn* | Konami |
| Sexy Parodius | Saturn* | Konami |
| Jikkyou Oshaberi Parodius: Forever with Me | PS1 | Konami |
| Paro Wars | PS1 | Konami |
| Pop'n Twinbee | Super Famicom | Konami |
| Detana Twinbee Yahho-! Deluxe Pack | Saturn* | Konami |
| Snatcher | MSX | Konami |
| SD Snatcher | MSX | Konami |
| Snatcher | Saturn* | Konami |
| Policenauts | Saturn* | Konami |
| Metal Gear 2: Solid Snake | MSX | Konami |
| The Goonies | Famicom | Konami |
| Getsu Fuu Ma Den | Famicom | Konami |
| Konami Waiwai World | Famicom | Konami |
| Waiwai World 2: SOS!! Paseri-jou | Famicom | Konami |
| Crisis Force | Famicom | Konami |
| Bio Miracle Bokutte Upa | Famicom | Konami |
| Yume Penguin Monogatari | Famicom | Konami |
| Higemaru Makaijima | Famicom | Capcom |
| Wily to Right no Rockboard: That's Paradise | Famicom | Capcom |
| Rockman Megaworld | Mega Drive | Capcom |
| Rockman & Forte | Super Famicom | Capcom |
| Capcom Generation Volume 1 | Saturn* | Capcom |
| Capcom Generation Volume 2 | Saturn* | Capcom |
| Capcom Generation Volume 3 | Saturn* | Capcom |
| Capcom Generation Volume 4 | Saturn* | Capcom |
| Cyberbots: Fullmetal Madness | Saturn* | Capcom |
| X2 | PS1 | Capcom |
| Alien Soldier | Mega Drive | Treasure |
| Radiant Silvergun | Saturn | Treasure/ESP |
| Ikaruga | Dreamcast | Treasure/ESP |
| Sin and Punishment | N64 | Treasure |
| Namco Museum Encore | PS1 | Namco |
| Splatterhouse: Wanpaku Graffiti | Famicom | Namco |
| Splatterhouse | FM Towns | VING/Namco |
| Night Striker | PS1 | VING/Taito |
| Holy Diver | Famicom | Irem |
| Border Down | Dreamcast | Irem |
| Macross Scrambled Valkyrie | Super Famicom | Zamuse |
| Super Back To The Future Part II | Super Famicom | Toshiba EMI |
| Shikigami no Shiro 2 | DC/PS2/GC | Alfa Systems |
| Donpachi | Saturn* | Atlus/Cave |
| DoDonpachi | Saturn* | Atlus/Cave |
| DoDonpachi Dai-Ou-Jou | PS2 | Atlus/Cave |
| Gunbird | Saturn* | Atlus/Psikyo |
| Zero Gunner 2 | Dreamcast | Psikyo |
| Kaze Kiri | PC Engine | Naxat Soft |
| Fausette Amour | PC Engine | Naxat Soft |
| Nexzr | PC Engine | Naxat Soft/Kaneko |
| Seirei Senshi Spriggan | PC Engine | Naxat Soft/Compile |
| Sylphia | PC Engine | Tonkin House |
| Mugen Senshi Valis | PC Engine | Telenet Japan/RIOT |
| Valis IV: The Fantasm Soldier | PC Engine | Telenet Japan/Laser Soft |
| Kiaiden 00 | PC Engine | Telenet Japan/RIOT |
| Ginga Fukei Densetsu Sapphire | PC Engine | Hudson Soft |
| Star Parodia | PC Engine | Hudson Soft/Kaneko |
| Bulk Slash | Saturn | Hudson Soft |
| Zanac X Zanac | PS1 | Compile |
| Psyvariar: Complete Edition | PS2 | Success |
| Psyvariar 2: The Will To Fabricate | Dreamcast | Success |
| Marchen Adventure Cotton 100% | Super Famicom | Success |
| Cotton 2: Magical Night Dreams | Saturn | Success |
| Cotton Boomerang | Saturn | Success |
| Fantastic Night Dreams: Cotton Original | PS1 | Success |
| Panorama Cotton | Mega Drive | Sunsoft/Success |
| Super Fantasy Zone | Mega Drive | Sunsoft/Sega |
| Mamono Hunter Yohko | Mega Drive | NCS |
| Assault Suit Leynos 2 | Saturn | NCS |
| Metal Slug | Saturn* | SNK |
| Metal Slug 3 | PS2 | SNK |
| Shinsetsu Samurai Spirits Bushido Retsuden | Saturn* | SNK |
| Soukyogurentai | Saturn* | EA |
| Seiken Densetsu 3 | Super Famicom | Square |
| Tobal 2 | PS1 | Square |
| Master Of Darkness | Sega Master System | Sega/SIMS |
| Ninja Gaiden | Sega Master System | Sega/Tecmo |
| Fire Emblem | Famicom | Nintendo |
| Yume Koujou Doki Doki Panic | Famicom Disk System | Nintendo/Fuji TV |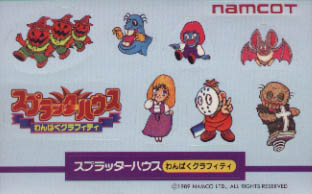 Want another good reason to get imports? Sweet little extras like this:
a set of stickers that came with Splatterhouse: Wanpaku Grafitti