Top 25 Favorite Atari 2600 Games

On a whim, I pulled out my Atari 7800 the other day and began sorting through all of the games I have for it - 2600 and 7800 alike. It got me to thinking - I've done very little about the 2600 on the OPCFG, and I don't know why. After all, it was the first video game system I ever owned, and a lot of those games made lasting impressions on me. So here, as the first special offshoot of The Top 100, is my Top 25 Atari 2600 games. Enjoy!




25. Space Jockey - U.S. Games - 1982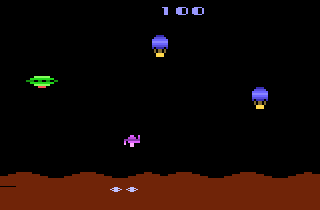 This was a game I literally spent hours on when I was young. I ran up an incredibly high score on it at one point by playing the same game for almost two hours straight. It's still a fun side-scrolling shooter after all these years, too.




24. Krull - Atari - 1983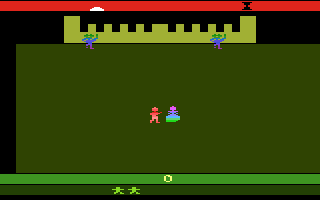 Based on the cult movie, Krull was one of the better adventure games Atari produced, and it was much better than any of their other movie based titles Atari produced - even turning out to be better than Raiders Of The Lost Ark, imo. The game story followed the movie fairly closely... you play Colwyn, trying to save Lyssa from the evil Beast and his army of Slayers. It remains fun to play even now, long after the movie's been forgotten.




23. Laser Blast - Activision - 1981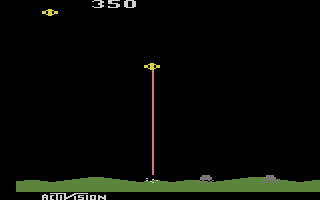 Laser Blast is Space Invaders in reverse, plain and simple. Blast the enemy cannons that are trying to blow you out of the sky, rinse, then repeat. Even after all these years, though, it's still incredibly fun to play.




22. Berzerk - Atari/Stern - 1982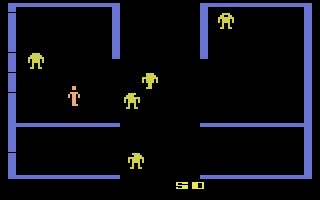 A port of the popular arcade game, the only thing missing from the 2600 version of Berzerk were the humorous voices, it seemed. Everything else was there, from the killer robots to good ol' Evil Otto himself. This was another game that I used to spend hours playing when I was young.




21. Jungle Hunt - Atari/Taito - 1983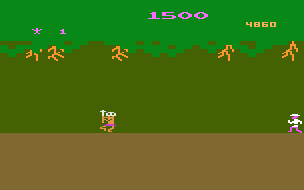 The best way to describe Jungle Hunt only takes two words: Pitfall! Lite. Still, it's a very fun game, even containing something that Pitfall! never did - headhunters! As good as it is, what I wouldn't give to find the original arcade game...




20. Ghost Manor - Xonox - 1983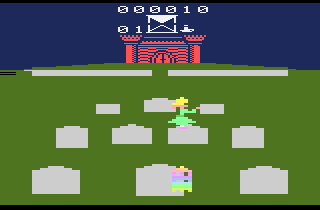 Ghost Manor had a feature that was very unique at the time. Besides being another multiple screen game that took you through various sections of the manor, you could choose to play as either a boy or a girl! Yep, now the girls could finally try their hand at rescuing the boys. Other than that, it was a very solid - if short - little game, even containing a Space Invaders-style shooter board.




19. Dig Dug - Atari/Namco - 1983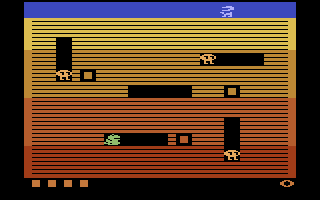 A great port of Namco's classic arcade game, Dig Dug played almost identical to its arcade big brother. This is another game I would literally spend hours on, digging all sorts of intricate mazes in the Kids mode, then parking Dig Dug somewhere safe and watching Pooka and Fygar try to blindly grope their way out of the maze I'd created (they couldn't change into ghosts in the Kids mode). It's too bad there was no Kids mode in the arcade game...




18. Turmoil - 20th Century Fox Games/Sirius Soft - 1982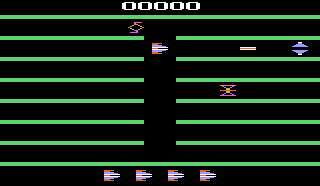 This game could literally be classified as "insane". This was one of the fastest moving shooters I'd ever seen! Your objective - blast anything that moves and claim the prizes before they become Supersonic Cannon Balls. Avoid the Ghost Ship at all costs, though - it can't be killed! Turmoil's still fun to pull out and play every once in a while.




17. Fathom - Imagic - 1983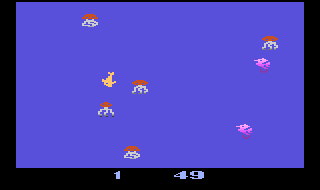 Yet another one of the more unique games that came out for the 2600, Fathom was the story of Proteus, a member of King Neptune's undersea court who assumed the form of both a dolphin and a seagull to save Neptina, the daughter of Neptune, from the Titans that imprisoned her and smashed the Trident, the source of Neptune's power. The ability to play as both a dolphin and a seagull is what attracted me to the game in the first place - and to date, I have yet to see a game that is quite this unique.




16. Vanguard - Atari/Centuri/SNK - 1982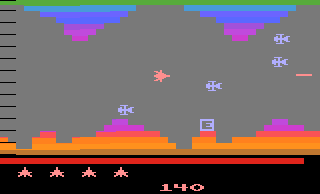 Vanguard was a port of the arcade game by SNK. I'm much more familiar with the home version than the arcade game, so I couldn't tell you exactly how well it stands up to the arcade. I absolutely love the home game, though. I made it a point to get my parents to let me stay home from school the day I got it because I wanted to play it so badly. To this day, I still love flying through the tunnels of Aterria, heading toward the City of Mystery and my confrontation with Gond...
next