Discussion
Great games have never had to be high-tech to be high-fun.
Check out the OPCFG blog (updated semi-regularly as of 2021)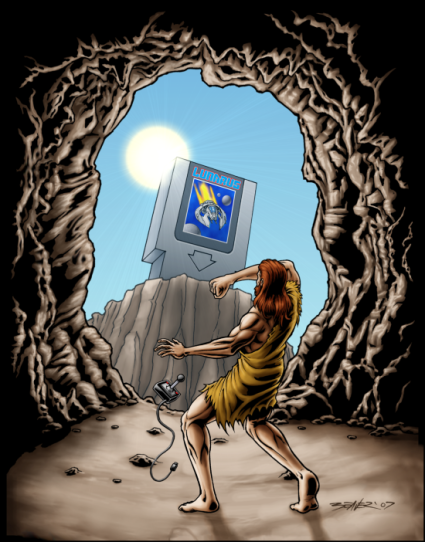 Memoirs of a Virtual Caveman:
Available NOW!




"Like" and follow Memoirs of a Virtual Caveman on Facebook and Twitter.

Originally released in 2008, Memoirs of a Virtual Caveman was a personal memoir I wrote about growing up during the "golden age" of videogames. It was discontinued in 2009, as I planned to start work on a "definitive edition" to replace the original. On July 15, 2014, the definitive edition of Memoirs of a Virtual Caveman made its debut, loaded with all new stories, pictures - and new stories from a wide variety of contributors.

Among those contributors are Sam Roberts of the Strider fansite The Light Sword Cypher Mainframe; Rondal Scott III of the pop-subculture website Strange Kids Club; Earl Green, webmaster of TheLogbook.com and author of the Doctor Who books VWORP!1 and VWORP!2; Rob O'Hara, author of the books Commodork and Invading Spaces; Cat DeSpira, former editor of Retrocade Magazine and owner of the blog Retro Bitch; Brett Weiss, author of the Classic Home Video Games book series; William Cassidy, of The Odyssey˛ Homepage; Steven, of the retrogaming website RVG Fanatic; Mike Plasket, contributing editor to the retrogaming website Hardcore Gaming 101; and many more. I've also included interviews with videogame industry veterans David Crane, Martin Alessi, Dan Tovar, Dave Wilkins, Yuzo Koshiro, and Kouichi "Isuke" Yotsui.

All inquiries regarding Memoirs of a Virtual Caveman can be directed to me at:


gradiusone[AT]yahoo[DOT]com

- Rob Strangman, founder of the OPCFG and author of Memoirs of a Virtual Caveman



SELECT NEXT ZONE
Additional Links


Long before there was ultra-super-duper-128-bit-polygon-video-capture, hardware hype, wEiRd TyPe, pointless game ratings, E3, SCREAMING GUYS in ads, Virtual Reality, cliches like "in your face" and "it's the ultimate", 360 degree roto-scope-rhetoric from self righteous reviewers, CD-this, 3-D that, multi-million-dollar TV commercials tainted with TOILET humor...
...there was fun.
The OPCFG: dedicated to the preservation of classic forms of gaming since 1998.

*all text © 2022 SCAR Productions*